Bencasso Barnesquiat Art Collections
Shop for artwork from Bencasso Barnesquiat based on themed collections. Each image may be purchased as a canvas print, framed print, metal print, and more! Every purchase comes with a 30-day money-back guarantee.
Artwork by Bencasso Barnesquiat
Each image may be purchased as a canvas print, framed print, metal print, and more! Every purchase comes with a 30-day money-back guarantee.
About: Benjamin "Bencasso" Barnes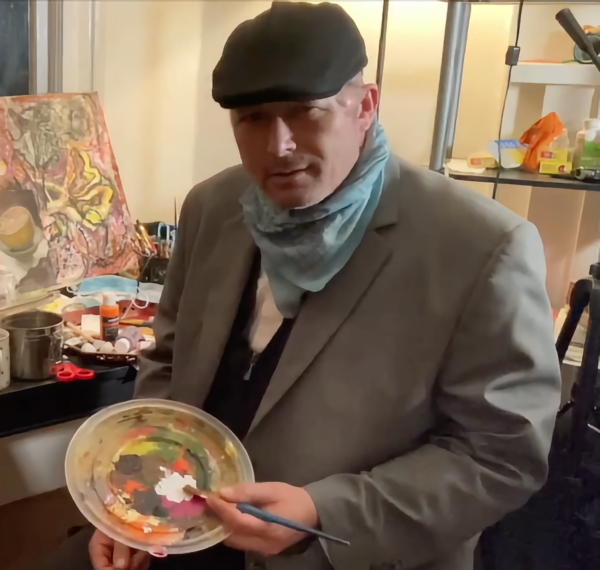 Benjamin Barnes, also known as Bencasso Barnesquiat, is a multi-talented artist and musician based in San Francisco, CA. He received his Bachelor's and Master's of Music Degrees from the San Francisco Conservatory of Music, where he studied with renowned teachers such as Sherry Kloss, Marlon Carlson, Izzy Tinkleman, Paul Hersh, Zaven Melikian, and Don Ehrlich. In addition to his classical training, Ben also studied electric violin, jazz performance, and composition with David Balakrishnan of the Turtle Island String Quartet. As a musician, Ben has played and recorded with a variety of artists including Les Claypool, Mr. Bungle, Dead Prez, The Coup, Carla Kihlstedt, Eric McFadden, George Clinton and P-Funk, Jason Newsted, DJ Disk, Brian Kehoe, Graeme Jennings, and Isaac Stern. He has toured the world with his own groups, the Rilke String Quartet and Deadweight, as well as performing as a sideman with guitarist Erik McFadden. In addition to his music career, Ben is also an accomplished visual artist, inspired by the works of Dali, Picasso, Basquiat, Van Gogh, Matisse, and other renowned painters. He learned to paint from his mother, Lillian La Fayette, who is an award-winning painter with a unique style influenced by Dutch Masters. Ben's art can be found on a variety of products, including shirts, prints, greeting cards, sweatshirts, shower curtains, coffee mugs, throw pillows, apparel, yoga mats, and jigsaw puzzles, all available at bencasso.org. In 2022, Ben was on the California Arts Council's impact grant panel and began minting NFTs, which can be viewed at Crypto.com. He also runs his own private teaching studio, where he helps students of all ages and levels develop their musical skills. Ben is passionate about supporting and promoting emerging talent, and is committed to using his skills and resources to make a positive impact on the world. Donations to support his art are 100% tax deductible and can be made at https://www.benjaminbarnes.com/donate. Audiences can expect a wide range of topics and themes from Bencasso's talks, with each one being unique and tailored to the occasion. Some potential elements that audiences may expect include: A variety of topics: Bencasso's talks may cover anything from music history to art symbolism to personal experiences with mental health and recovery. Audiences should come prepared for a diverse and potentially surprising range of subject matter. Engaging storytelling: Given Bencasso's background in music, writing, and comedy, it's likely that his talks will feature engaging storytelling and a strong sense of humor. This can help to keep audiences entertained and invested in the presentation. Personal anecdotes: Bencasso's personal experiences with catastrophic injury, mental health challenges, and other obstacles may provide a powerful backdrop for his talks. Audiences can expect to hear stories and insights that are drawn from his own life. Positive messaging: Despite the challenges he has faced, it sounds like Bencasso brings a positive outlook to his speaking engagements. Audiences may leave feeling inspired and motivated to face their own struggles with resilience and determination. Overall, it seems that audiences can expect a unique and multifaceted experience from Bencasso's speaking engagements, with each presentation offering a different perspective and set of insights. Varied formats: Based on the information you provided, it sounds like Bencasso's speaking engagements may take a variety of formats, depending on the topic and audience. For example, he may use visual aids and music clips to illustrate a talk about music history, or showcase his artwork during a presentation on art symbolism. This variety can help to keep audiences engaged and interested. Emphasis on teaching and learning: Bencasso's experiences as a teacher and music studio owner suggest that he may have valuable insights into how people learn and how best to teach them. His talks may incorporate ideas about different learning styles, the importance of patience in teaching, and other pedagogical topics. Authenticity: It's clear from the information you provided that Bencasso has led a complex and multifaceted life, with a range of experiences and challenges. Audiences may appreciate his willingness to share his personal struggles and triumphs in an authentic and honest way. Advocacy for mental health: Bencasso's experiences with mental health challenges and recovery may be an important theme in his talks. He may use his platform to advocate for increased awareness and support for individuals with similar challenges, and to destigmatize mental illness. Empathy and understanding: Finally, based on what you've shared, it seems that Bencasso brings a deep sense of empathy and understanding to his work as a speaker. He may be skilled at connecting with audiences and creating a sense of community and shared experience. Overall, it sounds like audiences can expect a unique and inspiring experience from Bencasso's speaking engagements, with a range of topics, formats, and themes that reflect his diverse background and interests. Interactive elements: Bencasso may also incorporate interactive elements into his talks to engage audiences more fully. For example, he may ask for audience participation in creating a piece of music or art, or invite questions and discussion to foster a more collaborative environment. Intersectionality: Given Bencasso's diverse background and experiences, his talks may touch on themes of intersectionality, exploring how different aspects of identity (e.g., race, gender, sexuality, disability) intersect and impact each other. This can help to create a more inclusive and nuanced conversation. Creativity and innovation: Bencasso's background as a musician, artist, and entrepreneur suggests that he may have a unique perspective on creativity and innovation. His talks may explore how creativity can be harnessed in different contexts, or how innovation can be used to overcome obstacles and achieve success. Practical advice: While Bencasso's talks may cover a range of topics, it's possible that he may also offer practical advice or tips for audiences to take away. For example, he may offer strategies for managing mental health challenges, or share insights into how to build a successful business or career. Emphasis on resilience and hope: Finally, it seems that Bencasso's personal experiences have given him a deep well of resilience and hope to draw upon. His talks may emphasize the importance of these qualities in overcoming challenges and pursuing one's dreams, leaving audiences feeling uplifted and inspired. Overall, audiences can expect a rich and varied experience from Bencasso's speaking engagements, with a focus on creativity, empathy, and resilience. His talks may cover a range of topics and formats, but will likely be characterized by his unique perspective and engaging storytelling.